SHOP
When I first saw low resolution images of the PANDORA Disney Mary Poppins Bag Charm (797506) it appeared to have a pavé finished with cubic zirconia stones. However when I inspected the I was delighted to discover a stunning, cubic zirconia free charm! I'm sure long time collector's will agree with me that this charm is the epitome of PANDORA at it's best. An intricate floral pattern covers Mary's carpet bag, the design is lifted beautifully with oxidisation detail. Just like Mary's actual bag, PANDORA Mary Poppins Bag Charm looks as if it's filled with unexpected items!
There is such expert craftsmanship on the Mary Poppins Bag Charm that it appears as if the bag's handles can be lifted and the clasp opened. Both the 'PANDORA' and '©Disney' hallmarks are stamped on two of the leather straps. My only wish is that PANDORA could have created this charm with a hinge and made it openable like the Free As A Bird Pendant (797575CZ). That would have been incredible!
Interestingly, despite being a large and solid charm, the PANDORA Mary Poppins Bag Charm has a smooth core. This has made me wonder if PANDORA will produce more unthreaded charms in the future.
EXPERIENCE
Shazam! Movie Review By Lifestyle Critic
DC have done it, they have finally turned things around for their movie franchise, with an excellent new entry. Shazam! is everything you want it to be – funny, heroic and full of heart, a great contender for the best DC superhero movie in a long time.
The film stars Asher Angel as Billy Batson – a cheeky orphan boy who is looking for his long lost mother. Billy is constantly running away from his foster families and eventually ends up with Victor and Rosa Vazquez, who also have five other foster children: Mary, Pedro, Eugene, Darla, and Billy's new roommate Freddy Freeman – a disabled superhero enthusiast. Billy does not warm to his new family and even though the parents and children try their best to be nice and welcome Billy into the fold, Billy resists and wants to be on his own.
Meanwhile, back in 1974 another young boy, Thaddeus Sivana, was magically transported to the Rock of Eternity, a magical temple in another dimension, where an ancient wizard called 'Shazam' explains that he is searching for a new champion who is "pure of heart" to take his place and powers. Thaddeus was unfortunately tempted by the statues of the 'Seven Deadly Sins' and was immediately banished back to Earth by the wizard as he was deemed to be unworthy.
In present day, Thaddeus Sivana is now a Doctor who has dedicated his life to get back to the Rock of Eternity. The wizard has similarly spent all of these years trying to find a suitable champion to take his place but has been unsuccessful. Thaddeus eventually finds a way back to the Rock of Eternity and engulfs the Seven Deadly Sins into himself, granting him new powers and thus making him the villain of the film. The wizard then transports Billy to the Rock of Eternity and finally finds someone worthy to be his champion and Billy becomes the new superhero, Shazam!
In order for Billy to turn into this hero, he simply says "Shazam!" and he is granted superman like powers including flight, hyper speed and lasers, where Zachary Levi plays the superhero Shazam. The film takes a comedic route with this and naturally explores what would happen if a teenage boy suddenly got granted super powers. It does it in a light-hearted comical way and doesn't lecture the viewer either on how to be responsible with superpowers, which was really refreshing. They also added a modern dimension to the film, by introducing selfies and YouTube channels, thereby giving the film a much more modern feeling.
The visuals in the film are a bit of a hit and miss though; some scenes are great, but some of the CGI in this film is really poor, this is especially the case on a massive cinema screen. You can tell that certain scenes that involve the demons of the seven deadly sins were filmed in front of a green screen, as some of the actors didn't know which way to look!
That said, overall, Shazam! is a fantastic movie. It was really nice to see DC really change up their standard formula of taking a dark and gritty tone with their superhero films and try something a lot more playful, comedic and fun – the results really paid off. Shazam! is a great entry into the ever growing superhero genre and gets a solid 7.5 out of 10.
I really enjoyed watching Shazam! at Vue Cinema in Harrow as it has super friendly staff, movie perfect snacks and has a great local community ambience when watching the film.
DINE

Before I start this review, I should state that we are big fans of Pizza Express. This is probably the 4th time at least we have eaten there this year and it's only January. The last time before this for my son's birthday in October. As my daughter is allergic to dairy, believe it or not as Italian food has a lot of cheese in, but they are really great with allergies. Even down to the fact the children's menu has a non dairy desert on it. Something you probably don't consider until you have a child who cannot eat dairy, but let me tell you telling a young child they cannot have desert when you're out for a meal pretty much sucks.
The restaurant itself had a great atmosphere, it was open and bright with two floors and generally buzzing. We were greeted immediately and sent to a booth, I always prefer the booths as I think they are easier with children. The children were also given colouring and sticker packs to keep them entertained.
We all had a 3 courses. The children opted for dough balls to start with and it was great they had an option of just balsamic to dip them into rather than butter for Aria. My husband choose the mushroom bruschetta and I went for them original tomato bruschetta.
For our second course I chose the pollo pesto pasta, the children opted for pizza – Aria's without cheese, and my husband chose the pork and stuffing menu from the festive menu. I can honestly tell you that all of the food was absolutely delicious. The pasta was so yummy and the children's pizza barely touched the sides.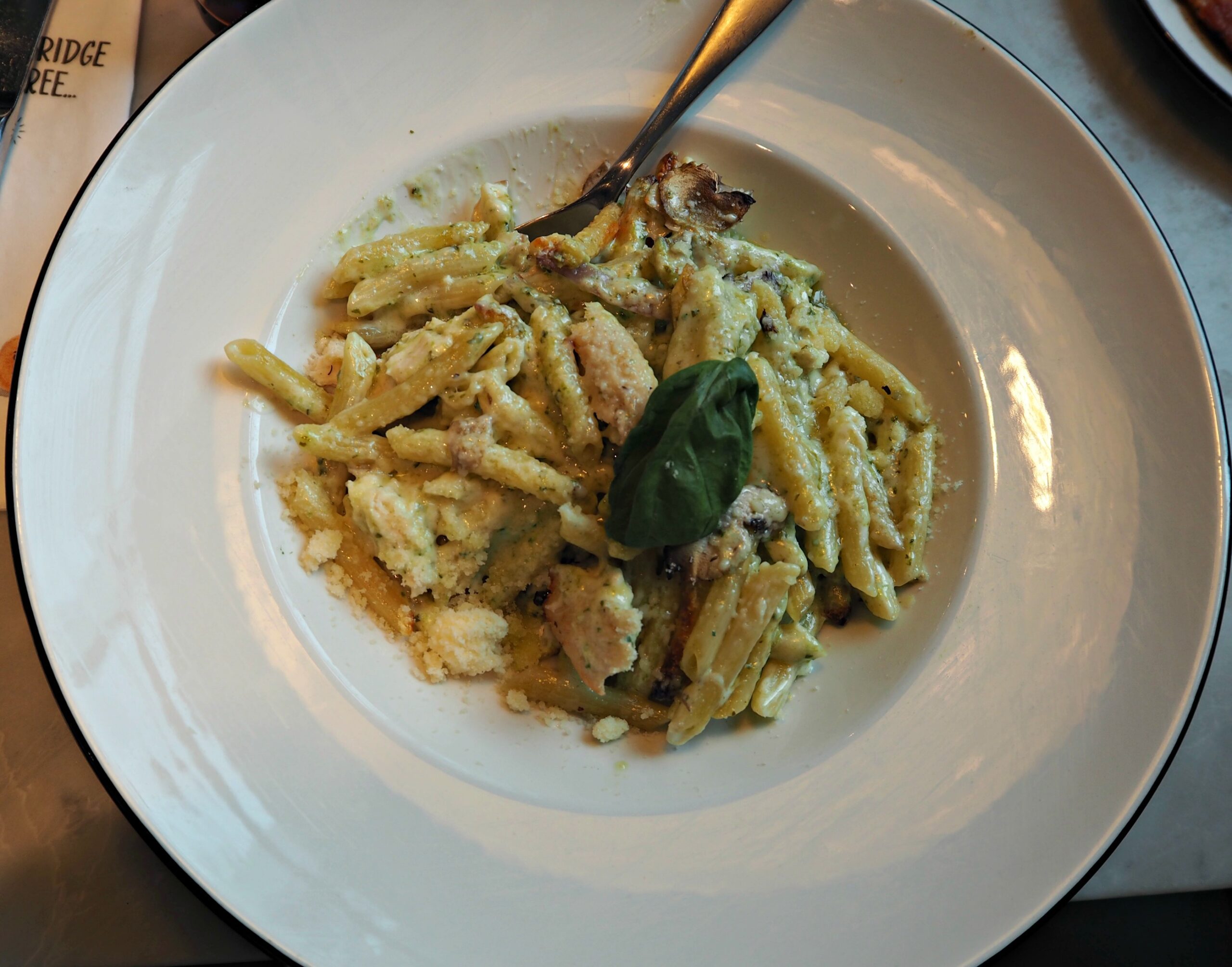 No meal is complete without a desert in my opinion. Logan went for the children's brownie and Aria the ice lolly. My husband and I went for choices from the festive menu, he had the panettone cheesecake and I had the Jaffa profiteroles. While the Jaffa profiteroles were yummy, the panettone cheesecake was amazeballs. My husband let me try some and honestly it was seriously delicious. I had mega food envy!
We thoroughly enjoyed our meal, the service was excellent and the staff very attentive.
ENJOY

Full Stop Aesthetics, my trip the the Salon. 
Working full time and having 2 young children means I am very limited on what I like to call 'me time'. However, Full Stop Aesthetics have reminded me that it is okay to have some time to myself and I can do that when best suits me. It can be hard to find the time for a bit of self-indulgence especially with many salons offering limited opening times. Full Stop Aesthetics are open 7 days a week and have appointments available until 8pm on Friday to help fit in with your busy lifestyle! This suits me perfectly so I booked an appointment for a manicure on a Tuesday evening at 7pm (after the kids were fed, bathed and in bed!) – I need this.
I arrive at Full Stop Aesthetics at 6:50pm and I am welcomed with a great big smile and offered a drink. I opted for a lovely americano. The salon is bright, clean and colourful. I feel relaxed immediately. I'm so excited to get my nails done, there are so many colours to choose from (I think
that was the most difficult decision of my day!), I opted for a lovely bright coral colour, after about 10 minutes of changing my mind (whoops!).
Nail treatments are little pleasures everyone can afford especially at Full Stop Aesthetics, the manicure treatment menu offers something to suit everybody. With professional service they offer personalised products from trusted brands like OPI, SNS and Shellac because they believe these products create lovely looking and healthy nails.
The nail technician was lovely, she explained nail care and all the different options available to me. I was amazed to find out that you can have nail gems, ombre and nail art for as little as £5 extra. With my busy lifestyle and being a mum to young children, I opted to keep it simple this time and stick with a block colour. Maybe next time I will be a little more adventurous – who knows!
Using creams and lotions my nail technician gave me a lovely hand massage which was so relaxing. I'm loving the experience so much I think it might have to become a regular occurance (when the kids are in bed, of course).
Around 45 minutes later, my nails are done. They are amazing and I am so so happy with them. I walk out of the salon feeling like a new woman. All a woman needs is a little pamper sometimes. I'd say, treat yourself to the pampering you deserve and book your appointment at Full Stop Aesthetics now. I have booked my next appointment already, next time i'm going to treat myself to a cut, wash and blow dry and I can't wait already.