SHOP
When I first saw low resolution images of the PANDORA Disney Mary Poppins Bag Charm (797506) it appeared to have a pavé finished with cubic zirconia stones. However when I inspected the I was delighted to discover a stunning, cubic zirconia free charm! I'm sure long time collector's will agree with me that this charm is the epitome of PANDORA at it's best. An intricate floral pattern covers Mary's carpet bag, the design is lifted beautifully with oxidisation detail. Just like Mary's actual bag, PANDORA Mary Poppins Bag Charm looks as if it's filled with unexpected items!
There is such expert craftsmanship on the Mary Poppins Bag Charm that it appears as if the bag's handles can be lifted and the clasp opened. Both the 'PANDORA' and '©Disney' hallmarks are stamped on two of the leather straps. My only wish is that PANDORA could have created this charm with a hinge and made it openable like the Free As A Bird Pendant (797575CZ). That would have been incredible!
Interestingly, despite being a large and solid charm, the PANDORA Mary Poppins Bag Charm has a smooth core. This has made me wonder if PANDORA will produce more unthreaded charms in the future.
EXPERIENCE
X-Men Dark Phoenix Review by Lifestyle Critic
X-Men: Dark Phoenix has been directed by first time director Simon Kinberg and it really shows. This is the climax movie of the X-Men franchise from the Fox era and it really did deserve so much more. As a massive fan of the X-Men franchise, I was expecting so much more and the audience, cast and crew really did deserve so much more.
X-Men: Dark Phoenix once again tells the story of Jean Grey turning into the dark phoenix character, only this time she is front and centre of the storyline, instead of being relegated to a secondary storyline in X-Men: Last Stand. This is where the movie fell apart, as the X-Men have typically been conveyed as an ensemble piece, but in this film, we have one central character and the rest serving as background characters. This was especially apparent with Cyclops, the leader of the X-Men being relegated to the background in this film.
The narrative is also very disjointed and isn't particularly gripping, the villains are not that interesting and apart from a few action sequences, the film is just really bland. If you are planning to watch this film then make sure you don't watch the trailer as it will ruin the few shocking and surprising moments in this movie.
The film's cast are one of it's saving graces though, as we have the stellar James McAvoy, Sophie Turner, Jennifer Lawrence, Michael Fassbender, Nicholas Hoult and Jessica Chastain. The acting was sublime, it's just the material they were given lacked substance.
From a visuals point of view, this movie looks awesome. The fight sequences with Jean/Dark Phoenix are excellent and the train sequence feels like it is something out of a video game.
Overall, this movie should have been excellent, especially when all of the preceding X-Men movies have done such a good job, let's just hope that the next time we see the X-Men in the Marvel Cinematic Universe they raise up to their deserved greatness.
Check the latest movies out at Harrow Vue as the cinematic experience is so enjoyable, you can literally feel the joy in the room while the movie is on.
DINE

Before I start this review, I should state that we are big fans of Pizza Express. This is probably the 4th time at least we have eaten there this year and it's only January. The last time before this for my son's birthday in October. As my daughter is allergic to dairy, believe it or not as Italian food has a lot of cheese in, but they are really great with allergies. Even down to the fact the children's menu has a non dairy desert on it. Something you probably don't consider until you have a child who cannot eat dairy, but let me tell you telling a young child they cannot have desert when you're out for a meal pretty much sucks.
The restaurant itself had a great atmosphere, it was open and bright with two floors and generally buzzing. We were greeted immediately and sent to a booth, I always prefer the booths as I think they are easier with children. The children were also given colouring and sticker packs to keep them entertained.
We all had a 3 courses. The children opted for dough balls to start with and it was great they had an option of just balsamic to dip them into rather than butter for Aria. My husband choose the mushroom bruschetta and I went for them original tomato bruschetta.
For our second course I chose the pollo pesto pasta, the children opted for pizza – Aria's without cheese, and my husband chose the pork and stuffing menu from the festive menu. I can honestly tell you that all of the food was absolutely delicious. The pasta was so yummy and the children's pizza barely touched the sides.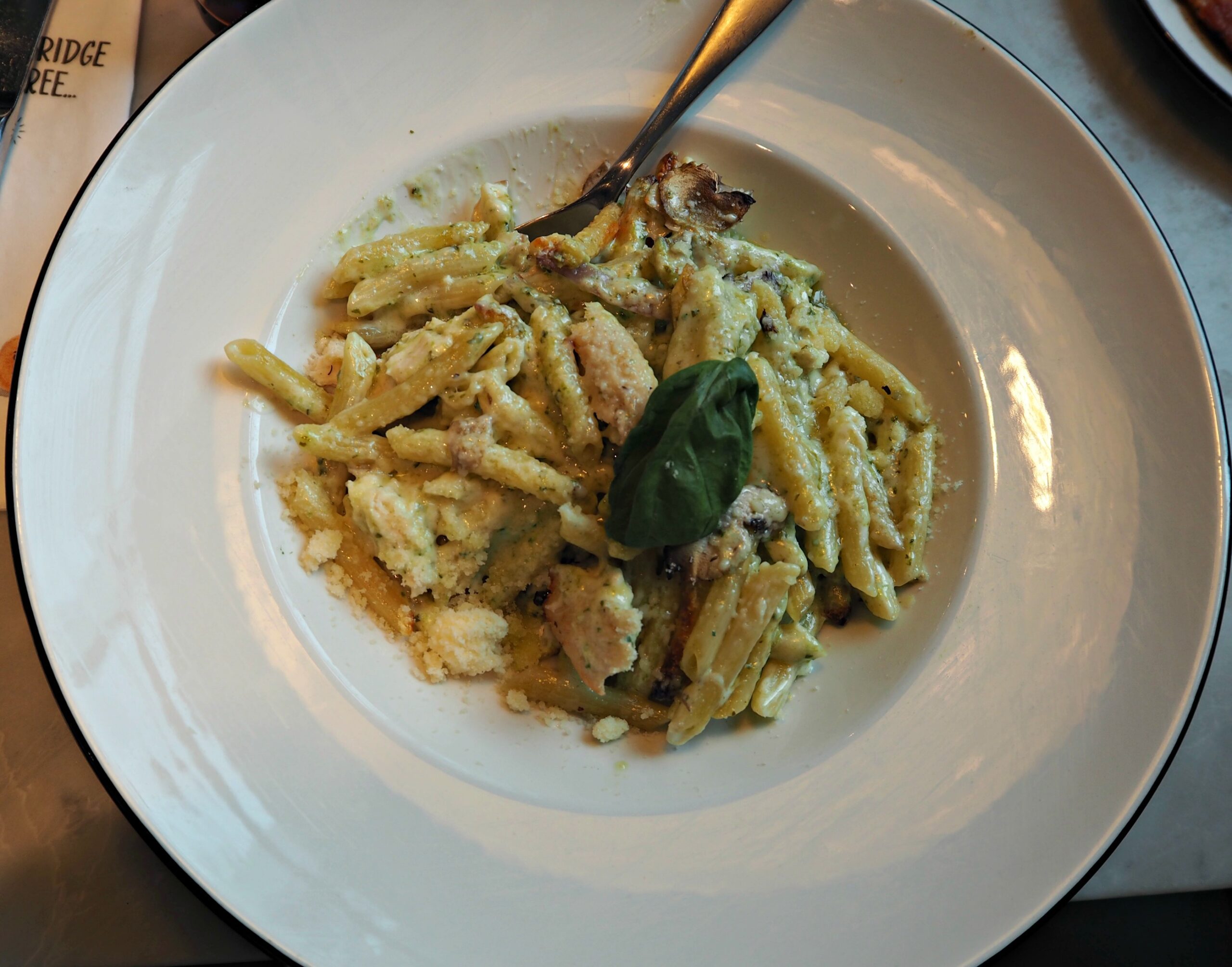 No meal is complete without a desert in my opinion. Logan went for the children's brownie and Aria the ice lolly. My husband and I went for choices from the festive menu, he had the panettone cheesecake and I had the Jaffa profiteroles. While the Jaffa profiteroles were yummy, the panettone cheesecake was amazeballs. My husband let me try some and honestly it was seriously delicious. I had mega food envy!
We thoroughly enjoyed our meal, the service was excellent and the staff very attentive.
ENJOY

Full Stop Aesthetics, my trip the the Salon. 
Working full time and having 2 young children means I am very limited on what I like to call 'me time'. However, Full Stop Aesthetics have reminded me that it is okay to have some time to myself and I can do that when best suits me. It can be hard to find the time for a bit of self-indulgence especially with many salons offering limited opening times. Full Stop Aesthetics are open 7 days a week and have appointments available until 8pm on Friday to help fit in with your busy lifestyle! This suits me perfectly so I booked an appointment for a manicure on a Tuesday evening at 7pm (after the kids were fed, bathed and in bed!) – I need this.
I arrive at Full Stop Aesthetics at 6:50pm and I am welcomed with a great big smile and offered a drink. I opted for a lovely americano. The salon is bright, clean and colourful. I feel relaxed immediately. I'm so excited to get my nails done, there are so many colours to choose from (I think
that was the most difficult decision of my day!), I opted for a lovely bright coral colour, after about 10 minutes of changing my mind (whoops!).
Nail treatments are little pleasures everyone can afford especially at Full Stop Aesthetics, the manicure treatment menu offers something to suit everybody. With professional service they offer personalised products from trusted brands like OPI, SNS and Shellac because they believe these products create lovely looking and healthy nails.
The nail technician was lovely, she explained nail care and all the different options available to me. I was amazed to find out that you can have nail gems, ombre and nail art for as little as £5 extra. With my busy lifestyle and being a mum to young children, I opted to keep it simple this time and stick with a block colour. Maybe next time I will be a little more adventurous – who knows!
Using creams and lotions my nail technician gave me a lovely hand massage which was so relaxing. I'm loving the experience so much I think it might have to become a regular occurance (when the kids are in bed, of course).
Around 45 minutes later, my nails are done. They are amazing and I am so so happy with them. I walk out of the salon feeling like a new woman. All a woman needs is a little pamper sometimes. I'd say, treat yourself to the pampering you deserve and book your appointment at Full Stop Aesthetics now. I have booked my next appointment already, next time i'm going to treat myself to a cut, wash and blow dry and I can't wait already.